The Approaching Hurricane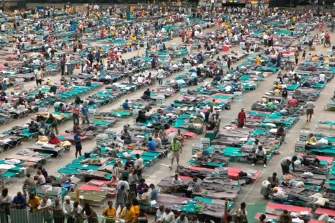 Hurricane Katrina remains the costliest natural disaster in United States history. So much of what the world knows of this 2005 storm centers on either its aggregate totals—a haunting death toll of at least 1,245 and perhaps as high as 1,900—or its damage to New Orleans, Louisiana—where flooding of about 80 percent of the entire surface area led to tragically iconic pictures such as thousands stranded (and some dying) at the tattered Superdome.
But Katrina's damage spread far beyond New Orleans. Some of its most devastating force hit a bit east, in the state of Mississippi. Here Katrina brought a 27-foot storm surge that for scores of miles of coastline penetrated more than 10 miles inland along bays and rivers. This surge, torrential rains, and brutal winds combined to leave in Mississippi over 300 people dead or missing and all 82 counties in the state declared disaster areas for federal assistance.
Over 10 years beyond Hurricane Katrina, today its evidence remains visible everywhere—as is the gathering evidence of another approaching hurricane.
Katrina's brutality was most severe along this coast: According to one report, "estimates by Mississippi officials calculated that 90 percent of the structures within a half mile of the coastline were completely destroyed." The long weekend just past, one of your correspondents stayed in one of the fortunate 10 percent of the undestroyed structures within that half mile of Mississippi coastline (as part of an annual reunion with a gaggle of college friends—think bad golf yet good cheer). Walk or drive on U.S. Highway 90 along today's Mississippi Gulf Coast and you are struck by absence: by the countless empty lots where structures and commerce used to be—lots that over a decade after Katrina remain lifeless, other than the returning vegetation and the smiling signs of realtors hoping that some enterprising pluck will spur rebuilding and thus rejuvenation.
Turn off of Highway 90 away from the coast and another form of damage appears: economic hardship that, although clearly aggravated by Katrina, predates her appearance by many moons and that persists to today. Roads such as Highway 49 are dotted with pawn shops, with businesses offering payday loans and title loans, and with other such signs of people struggling to make ends meet. In 2014, median household income in Mississippi was just $39,680. This was over 26 percent below the U.S. median household income that year, and 4.5 percent below the state's 2008 peak. For generations Mississippi has been last or near last in measures of U.S. income and poverty. These income numbers reflect generations of economic struggle for the state, which has never been able to secure a lasting share of globally-connected, high-value-added, high-wage companies and industries that sustain increases in standards of living.
Mississippi's economic woes are tragically most concentrated on its children. Last year it was reported that 246,000—a staggering 34 percent—of the state's children live below the poverty line—a share that has risen, not fallen, since the Great Recession. Seventy-nine percent of its fourth-graders read below a level deemed proficient. The state ranked 50th in overall child well-being, a measure that embodies measures including health, family, community, and economic well-being. Talk with Mississippi residents and you hear and feel the anxiety polls continue to show across America of a country on the wrong track, without a clear way forward to build a stronger future—for themselves or for their children.
Thus do we face another approaching hurricane—this one metaphorical, yet perhaps no less important, for the future of states like Mississippi. Today's morning papers are reporting the latest U.S. polls (here for The Wall Street Journal/NBC poll, or here for The Washington Post/ABC poll) showing that Donald Trump has pulled even with Hillary Clinton in the presidential race amidst broad and deep discontent. Both candidates continue to "suffer from the worst public images in the modern history of presidential politics," with many voters saying they intend to vote against a candidate rather than for the other and with a record one in 10 voters stating they intend to vote for neither. Much of the roiling unease of American voters reflects their unease with their economic plight—plight that remains far too visible in places like Mississippi.
Hurricanes are fundamentally different from other natural disasters such as tornadoes and earthquakes in one vital way: their threat builds for a relatively long period of time, such that prudent action by respected leaders can avoid far greater disaster. Katrina formed over the Bahamas on August 23 and intensified for six days before its August 29 landfall. America's presidential election is similarly building, now less than six months away. Will the country see respected leaders arise to shape (and participate in?) the upcoming presidential election in way that bodes well, not ill? We shall see. The 2016 Atlantic hurricane season begins June 1.
Articles © 2016 Matthew Slaughter and Matthew Rees. All rights reserved.
Publication © 2016 Trustees of Dartmouth College. All rights reserved.​​​​